Spring is coming and so are we with all kinds of new items that were Made in USA. We are gearing up for the new season and have been creating lots of new items both for our website and the wonderful craft shows we plan to participate in. We are continuing to add new items to our website and so many items that you can match together to make perfect ensembles to show off this spring. You can match a ring to a pendant and then find the perfect necklace set to complete the ensemble and make a strong statement of beautiful, handcrafted real gemstone jewelry that was Made in the USA that everyone will admire. Of course, the Sterling Silver Chains in all kinds of styles and lengths for the pendants will complete the ensemble. Remember, if you spend $75 or more, the shipping is free!
New Items For You to Enjoy
Every day we are continuing to add new items to our website in many different areas of Pendants, Rings and Sterling Silver Chains. We have also encluded groups of rings and pendants so you can do all your shopping in one area to find the matching items you like. White Buffalo is always popular, and we have now added Black Buffalo items to our inventory. This comes from the same mine as the White Buffalo Turquoise in Tonopah, Nevada, USA and is so new, many have not even heard of it. So many pieces of this stone really have great, beautiful and unique designs that we have tried to bring out when we cut them. We also are adding new items on the website that are favorites in color, whether it be purple, blue, green, tan or some other color.
As a further note, if you have a special occasion coming up, such as a wedding or group dinner, we can help you with that as well. We have provided multiple bolos for the ushers and necklace sets for bridesmaids, as well as pendants with matching earrings for the bride. We love doing special event items. Maybe you need a special gift for a speaker – we have the perfect item(s) for you. Just let us know what color or item you are looking for, if you don't see it on the website, and we will do all we can to help you. It could very well be something that has not been posted yet.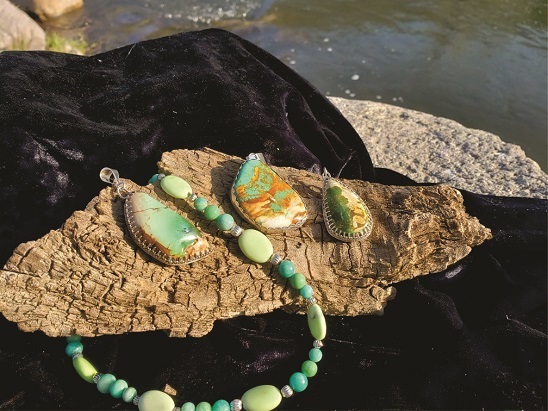 The above pictures give you an idea of how items can be mixed and matched to make a complete ensemble, even if the stones are not the same. The necklace set could be in purple amethyst, that will match a ring and or a pendant of the same or similar stone. Opals can go with anything. It is never too late to purchase a wonderful set for a special event or holiday, or just to wear every day.
"Don't forget Turquoise is the Birthstone for December, Amethyst is for February and Aquamarine is March!."
What colors do you prefer? Yellow Bumble Bee Jasper or Orange Spiny Oyster? We have rings and pendants in both, but they never last long. They are so unique and special we have difficulty keeping them in inventory. Red and Pink jewelry is also in high demand with the Rhodochrosite Pendants and Rings, all with their own unique designs. Green Malachite or Blue Larimar items are also very popular, and again, rarely remain in stock for very long. As fast as we make a piece of jewelry in these various stones, they are gone! If you don't see something you are looking for, please send us an email as not all items are shown on the Website.